Author's Note: I can't say how thrilled I am to have gotten a chance to interview Miss Connie from Tails from the Foster Kittens. It's not a "pet blog" per say, but it's about pets, cats.. foster kittens and such so I'm letting this squeak by into the Pets that Blog category because it's not a guest post.. so many many thanks to Miss Connie for letting me interview her and ask a million questions. Please check out her blog – there are some wonderful tips and pictures and misadventures there! For more Pets that Blog interviews, please see the bottom of the interview for the badge. Thank you again Miss Connie and readers. =^..^=
---
How did you start with fostering?
I actually read something about fostering a few years before the shelter I volunteer with had a fostering program.  I asked about it and they said they wouldn't do anything like that, I think they were worried about safety.  When the staff turned over and new management came in a fostering program was set up, and I was one of the first people to sign up to bring home kittens.
What are some fostering tips you would like to share?
Know what is expected of you.  If you are working with a shelter or rescue, find out what is covered by them and what you will be expected to provide.  Make sure you know what the emergency contact is for after-hours issues.  I also think it is very important to keep your foster and your resident cats separated. Not everyone does this, and I cringe when they don't because you cannot protect against everything, and there is no point in putting your own cats at risk
What has been your most rewarding foster?
That is a difficult question.  There was a kitten born at my house that wasn't even two ounces when he was born, and everyone expected him to die (he didn't, 12 years later he's still doing wonderfully) or the kitten that became so anemic that she had to spend a night in an oxygen chamber who also survived.  Finding homes for a few diabetic kitties, finding a home for Odilia the blind kitty, and finding a home for Issac Arnold and Smedly..   just to name a few..
When did you start the blog?
in 2002 a few months after I started fostering.  I ran a blog that was simply a day to day journal of my life, back when blogs were just starting out.  I had ended up swamping it with kitten stuff, so I figured I'd start a separate blog for the kittens..
What has been your favorite post on the blog?
I don't have one. With nearly 3000 posts, it is kind of hard to pick out one as a favorite.
Has anyone fostered because they read your blog?
My friend Wendy is currently fostering some feral kittens.  I don't know if it is a direct result of my blog, or if it just added to something she has already wanted to do.
If people can't foster what are other ways to get involved?
Support your local shelter.  If you don't feel financially stable enough to give money, then donate old towels and blankets.  Go yard sailing for items that are appropriate for shelters to use or to give to pets.  Bake some cookies for the staff or bring them popsicles in the heat of summer.  http://www.kittyblog.net/2013/07/blog-change-july-edition-something.html I just recently read yet another article on the importance of photos to get pets adopted. If you think you can take some nice photos, I am sure the shelter would love for you to stop in and take a few.
Do you have any foster fails?
Yes.  Yes I do. There were eight in total. All seven of my current crew were once fosters.  I also adopted an eighth that unfortunately did not survive to see his first birthday.  Kodi died of FIP http://www.kittyblog.net/2010/03/crew-history-fip.html
Do the fosters have a special room they are in?
In the beginning I used the spare bedroom to foster in.  When we moved to the house we are in now I continued to use the spare bedroom, but they were very close to our bedroom and sometimes the noise of kittens playing would keep us up.  We had a corner of our basement that just called out to be closed up and made into our foster room.  Since I've been doing it for so long it was an investment that has paid off for us. I wish it was a little nicer, not as basement looking, but kittens do not care if they look at rafters, as long as they have a sun puddle to sleep in and a few dozen toys to play with.
Is there anything else you would like to share about yourself or your fosters?
People often say to me that they could never foster, because they could never give them up.  Yes, giving them up can be hard (not as hard as you might think if you have four or five kittens at that rambunctious age of getting into EVERYTHING) but to me it is harder to sit back and not do anything, knowing that the need is there, that it is so great, and often without foster homes animals die. The shelter I volunteer with used to put neonatal kittens down upon arrival to the shelter knowing their chances of survival were almost none and that the death awaiting them due to illness was not worth the risk.  I do this not only because I love kittens, but I cannot face a world where I do not try to save them.
Also, I had followed the progress on Gigi, I'm glad she's better, do you have any tips for people who have a newly diagnosed diabetic cat?
First off, the learning curve for FD is very steep, but it is very short. If you are willing to jump in with both feet, in almost no time you'll be wondering why you were so afraid of the diagnosis.  There are a lot of resources out there for people with a newly diagnosed kitty.  I remember how overwhelmed I felt when I first got the diagnosis for Emerald. She was nine years old, and I feared her life was over.  Today's protocols are so dramatically different from what I was told back when she was first diagnosed.  Feeding a low carb food is paramount.  If your vet does not stress that, then you need to look outside your vet for additional help.  You can also test your kitty's blood sugar levels at home with a $10 glucometer available at your local megamart. You can google home testing of feline diabetes for websites and videos on how to do it. You can stop over at felinediabetes.com for lots of information and check out their message boards for nearly instant help for any question you have, as there are people on there very regularly
Do you have any tips for helping a shy cat?
It is one of my favorite things to do.  My motto is impose, but do not force.  And never let the kitty escape from you when you are holding it.  Do not let it go until all four feet are on the ground.  It may take a few tries for the kitty to stop squirming as you  put it down, but eventually they will catch on, and that is your first step in building trust. http://www.kittyblog.net/2012/11/what-i-know-taming-of-kittens.html
How many cats live with you?
At least seven.  The Crew is made up of seven former fosters. At the moment there are eight cats in my house as I only have one foster Charlotte.  I've had up to 23 before.
Can you tell me about them?
Jack came to me from my third set of foster kittens.  When I started fostering I promised my husband I wouldn't keep any of the kittens, but Jack found a way into my heart and soul, that I sobbed when I returned him for adoption. My husband couldn't stand to see me so upset, that he told me to go adopt him.  I RAN to the shelter the next morning and grabbed him up and brought him home.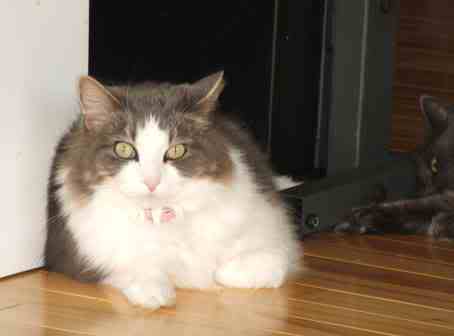 Muffin and Eli came next with their brother Kodi.  Muffin was so full of attitude she floored us both, and Eli was so damaged from round after round of URI we feared that no one would give him a home.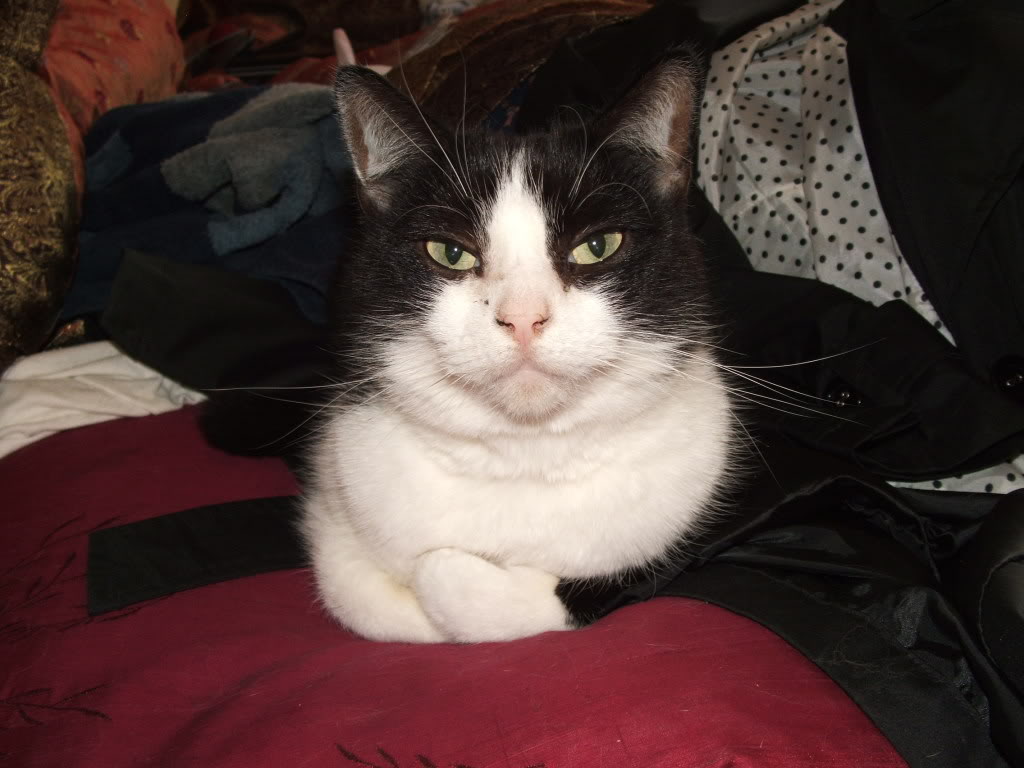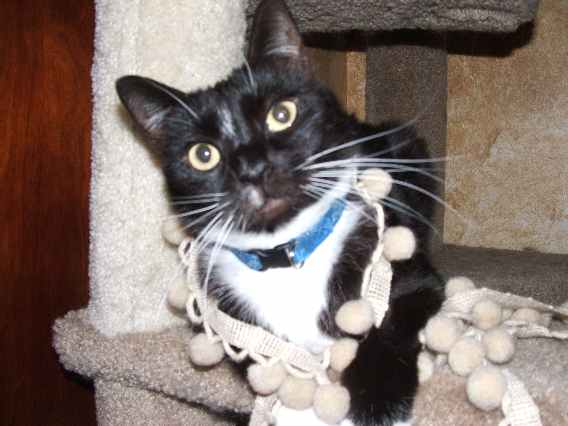 Twee had a very bad reaction to the sedation when she went to be neutered that she died while on the table. We kept her for a few more weeks while she recovered from that and brought her in again and she again had a reaction, but they were waiting for it and very quickly spayed her and revived her, but as a result she needed a few more weeks recovery, at which point my husband had fallen for her and he went off to the shelter and adopted her.
Kit came from a set of fosters born to the house from a mother and daughter set of cats that were pregnant at the same time.  There were ten cats in that one room and it was getting a bit overwhelming as the kittens were ready to go back for adoption.  Unfortunately Kit wasn't at weight, so we ended up keeping her for a few additional weeks.  She was a very petite little kitten and it took a very long time, at which point she had my husband wrapped around her little paw and once again he went off to the shelter to adopt.
Fleurp.. Another one of those forces to be reckoned with. She called to me from across the room when I stopped by the shelter to pick up some food for the foster kittens I had.  She just sat there, looking miserable because of her bad eye, but yet I still was drawn to her. I needed another foster like I needed a hole in my head, but still I said I needed her.  I needed another cat in my house like I needed two more holes in my head, but I could not refuse.  She is pure happiness and joy and hope.. and I can not refuse her anything.
Skippy came to me as an abuse case.  Once again he was an only kitten (seeing a trend here?) and he needed a little extra care.  He was a super cuddly even as a kitten, wanting to be cuddled the minute you walked in the room to see him above food and above play.  I got him well and brought him back to the shelter to be adopted, and he was. I warned the couple that he might have health issues, and they were kind of dismissive to what I was saying.  Well he came down with a cold and the couple nearly immediately returned him.  I brought him home to foster him and when he was well I brought him back to be adopted again.  He was at the shelter for a couple of days before he came down with the cold again.  Home again for a few more weeks and back to the shelter we went. He was then at that odd teen age stage that is harder to adopt out, and so he sat there for almost two weeks, when the shelter staff said they would waive the adoption fee if I would just take him home.  So I did.
Is there anything else you would like to share?
The more I have gotten into the health care side of pet ownership, the more I've learned that what we have told is standard health care is anything but.  It is sad that when I talk about proper food for a cat I am considered fringe or 'one of those weirdo's  I question everything from the food we feed, to the vaccines we give.   I also believe fully that we each have to make decisions for our pets that we can live with.  If you choose something I don't think is 'right' I will fully support your decision as long as you made it with some knowledge of both sides of the conversation.
---
Pictures were used with permission, please visit her blog Tails from the Foster Kittens or visit the Facebook page of the same name – Tails from the Foster Kittens
This post is a part of the Pets that Blog theme. Please click the below badge for more articles.