Author's Note: I had the pleasure of interviewing Cassie Graus, the wonderful talent behind KittyCassandra's Cat Paintings.  Thank you so much for letting me ask questions and feature your work.
Her websites are as follows:
---
First may I ask when did you start drawing? Was that before or after you had your first cat?
I started drawing as a kid; drawing at friends' houses was my favorite activity. Even in school I would just draw in my notes to make someone else laugh. I struggle(d) with depression, so it's really like therapy for me. Art and comedy were the two main ways I could make people happy and connect with them — I'm a people-pleaser but I'm very shy, so art or music was my in. My drawings were usually of animals or whatever class was about that day. I think my mom got the idea to adopt our first cat when I was in third grade because I drew them so much and make books about them when I was really young.
What was it like to be featured on Animal Planets Cats 101?
It was a huge honor that I absolutely lucked out in getting. The production company found me through my Etsy shop. They must have searched for "exotic shorthair" since I made sure to tag my art with that search term. They sent me a message asking if wanted to be featured in a human interest story relating to that breed of cat. So don't be afraid to put whatever it is you do "out there," even if you think it's silly — like my grandfather always told me, "someone's always watching."
Where do you get your inspiration?
I am inspired by things that make me happy because I want to make other people happy with my art… my cats… cute things… junk food… pretty colors… (I'm not breaking any intellectual ground here). Also just trying to be original inspires me, trying to paint something no one's ever painted about before, or in the way that I would paint it. When my convention booth catches someone's eye and they grabs their friend's arm, and they walk toward my table, and to make joy happen in someone else, that's the biggest rush for me.
How long does it take a finish a piece?
It takes about 8 hours on average from sketch to finished digital piece, longer if it's using traditional media (my go-to material is acrylic on canvas), and even more time if it's a larger piece. My longest pieces are my 36″x48″ HUGE paintings ("Junk Food" and "Picnic at the Park" are two of them), which take me maybe 40 hours over several weekends.
May I ask what you are working on now?
I'm taking a little break from commissions right now — I am working on a series of personal pieces featuring humans being rescued by a squad of tiny kittens, mainly to show more versatility in my portfolio since my dream is to get into professional illustration. I am also excited about developing two graphic novels (one cat-centric and one human-centric), but those require such an up-front investment of planning time that it's so much more tempting to spend my weekends and evenings on quicker pieces that I can share with everyone immediately after finishing, since it's not so much about painstaking technique as it is about a joke in the piece. I like when I can make my art like a comic, but without words.
How many cats do you have?
My husband and I have 3 cats. We got them immediately when we got our first apartment after I graduated college, which was the first time we were allowed to have cats where we were living.
Why are you against declawing?
I am against declawing because it is cruel, plain and simple.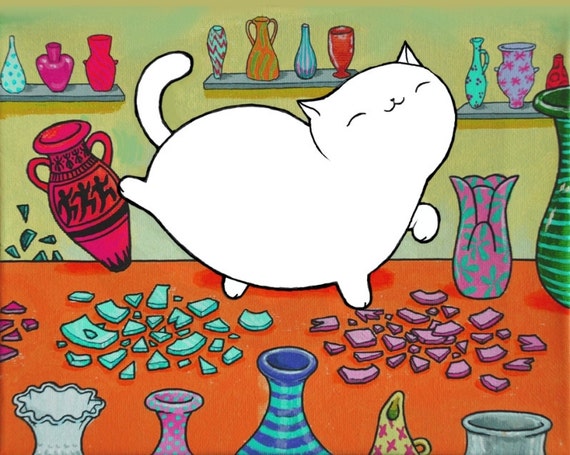 What alternatives would you suggestion to people who want to declaw their cats?
I would suggest getting into a routine of clipping their claws every 3-4 weeks or so. I like the scissor kind rather than the guillotine kind for greater precision. Choose a time that you know your cat is calm and sleepy. There are also little temporary plastic claw caps to prevent scratching. If you are really having a tough time with it, you can typically bring them to your vet's office for a trim at not too high of a cost.