Ugh, sorry I was working some overtime to get in some extra $$ for the holidays and totally completely and utterly forgot about the posts. Please don't hurt me! *ducks*
Anyways, I wanted to go over the list of Cat Gift Ideas – don't worry the Dog & Small Pet Gift Ideas are going to be a separate post to minimalize scrolling.
---
Cats
There are a lot of options.. sometimes too many, so if you know your cat and know what he/she likes then stick with that, if this is your first time being owned by a cat then it's best to purchase a bit of everything. So here's a small list of cat gift ideas. Additional note: if I mention any brands, I am not in any way, shape or form compensated for the endorsement I am merely stating from my experience with that particular brand. Price estimates are just estimates from box stores or online.
---
Adoption – Truly a great gift, adopting a cat from a local rescue/shelter. Be sure to have the basics – food & water bowl, litter box and a cat carrier for them. Make sure you check with your landlord/rental management company prior to getting a cat to make sure they are allowed.
Cat Condos/Trees – Most cats enjoy being up high and having a place of their own, these types of things vary greatly in price I've had luck with ordering on Petco and Amazon, make sure to double check the shipping price because you don't want to pay more for shipping than for the item itself. They are fairly easy to assemble, I like to check reviews if purchasing online, if purchasing in store I like to look over and shake the ledges just in case to see how well they will hold up to the 15lbs of cat that like to settle on the top. One last piece of advice, check the height & width pictures don't always do it justice and make sure you have the room for the cat condo/tree prior to purchasing. Price – $70-$300+
Cat Grass/Seeds– I have no personal experience with this myself, but I have heard great things from numerous cats who love it, if you don't have a green thumb, I would suggest starting off with a cheaper variety or just get the cat nip itself. Price – $3-$15

Cat Milk – Most cats are lactose intolerant so a good alternative is getting cat milk, if this is your first time giving your cat this product watch them afterwards, one of my cats can't stomach it. Just buy one container to be on the safe side, if you know they love it, buy the 3 pack or case (yes it can be sold by the case). Price – $1-$20


Cat Nip – Most cats are responsive to cat nip, there are those that don't care for it, I would suggest getting a small bag/container to try it out unless your cats love the heck out of it. Price – $2-$15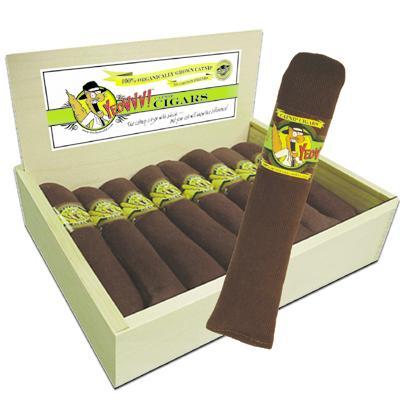 Cat Treats – So many flavors, combinations, shapes, etc to choose from varying from $1-$7 depending on the type an variety. Pick the ones your cats like and you know they won't have a reaction to, for others I would suggest getting a small bag/container to start with. My cats favorites are Temptations, Pounce & Party Mix . Price – $1-$8
Collars – Make sure it is adjustable and is a breakaway style so that if the cat gets caught on something and pulls away the collar will break off and the cat is able to get away safely. Price $1-$7
Crinkle Balls – Vary in size from small to extra-large, they are fairly cheap, crinkle and are shiny. Price – $.50 – $5.00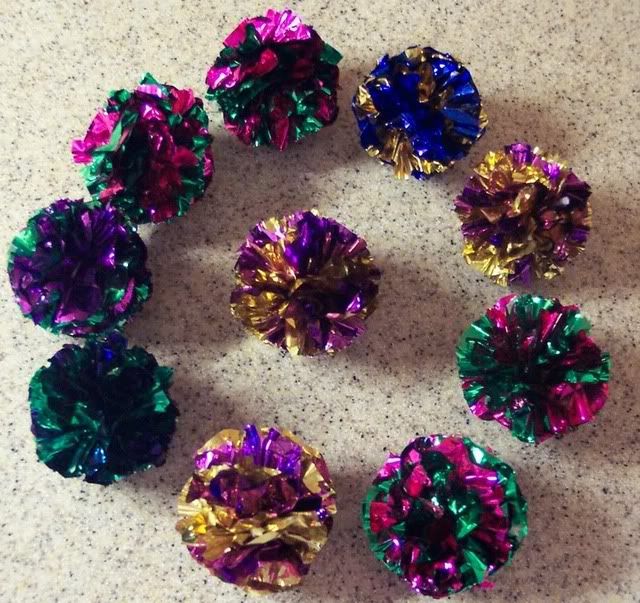 Crinkle Sacks – They are made of fabric and crinkle… kittens especially seem attracted to this. Price $5-15
Cubes – Made of a thin fabric, they come in a small box and pop open, making an instant play toy/hideaway for any cat.
Price $3-$10
Dangle Toys for Cat Condos/Trees – most cat condos/trees have loops under the ledges to attach toys that dangle to attract the cats. Price – $3-$7 apiece.
Felt Mice – They are common and all four of my cats will play with them at some point, some have a rattle others are completely noiseless generally come in packs of 5 or more. Price – $2-$15

Fuzzy Balls – Small fuzzy balls some have catnip others do not, they are cheap, noiseless, but after get pushed under furniture because they are small. Price – $.50 – $3
Jingle Balls – cheap plastic ball toys with a bell in them, some cats like them because of the noise others don't. Price – $.50-$3
Harnesses – For those who want to attempt to walk your cat, harness strap around their mid-section and attach to the leash, they vary in size. I have an adjustable one for my cat Buggy with a spring type leash. They have harnesses that have just straps that go under the arms and over the mid-section and they have ones that go over the back and connect on the mid-section, I would recommend doing some research/asking a store associate before purchasing one because you want to make sure it's a good fit for your cat. Price – $15-$50
Tunnels – They come various styles/varieties, they range from short to long and often can connect with cubes to make for tunneling fun for cats. Price – $7-15

Wand Toys –Made of various materials, some are noiseless and others have jingle balls, squeakers, etc. I have a feather toy with a jingle ball (it looks like a small duster) that one of my cats loves. If you have cats that you know will love them – go for it – if this is your first holiday with you cat, get a small one and see how they react, some cats like it others don't. Price – $3-$20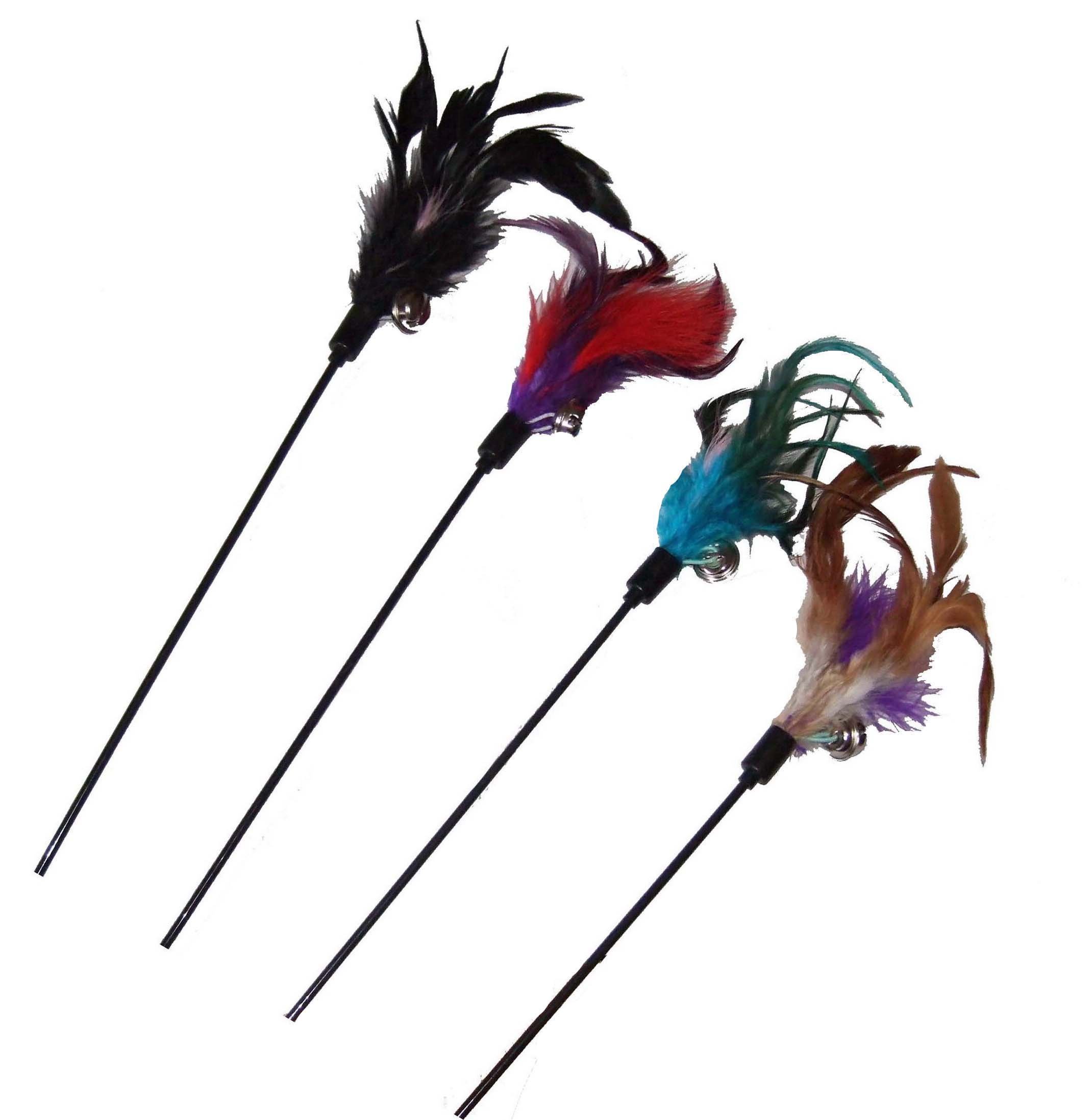 Water Fountains – Wonderful concept for those who have cats that are obsessed with drinking from faucets (like two of my four, I don't know what it's like to go to the bathroom without at least one kitty escort). I've had good and bad luck with these and when I had them, the cats loved it. But be wary, you will need to clean it at least 2-3 times a week depending on how many cats you have (I have 4) and refill it just as much. I've only had experience with the Drinkwell brand. The design/price various a great deal. Price – $20-$150
---
I need your help for the Dog & Small Pet Gift Ideas. I can only come up with one or two items, so if you have experience with a certain type of toy/treat please comment and I will list the idea and credit you (using your first name and last initial and share your blog/website if you have one)