Author's Note: Some  of the pictures may be a bit graphic, but I wanted to include them in the interview to show what Tyrone looked like when he was first taken in to now. 
How old are you?
They bewieve I am about 7 years old
Where did your name come from?
I was actually named by the people who were letting me live in their gawage before my illness. So I was named before I was wescued
How did you find your forever home?
I showed up around the time of Hurricane Sandy near My Momma Mawia's house and she was feeding me and then I disappeared and one day she was at her neighbors house and she seed me outside and said hey that's the cat I was feeding and then he disappeared and the neighbor said oh that's Tywone we made him a bed in our garage and we feed him there but he comes and goes as he wants too. At this pint I was perfectly fen noting wong wif my eye and I had a kind of sort of out side home. Then sometime in the summer somefing happened to me and no one weakly knows what (I don't wemember it was too twaumatic) but the peoples who were taking care of me called Momma Mawia and Momma Beff and told them somefing was wong so they comed to get me and were shocked by what they saw 🙁 I wan off and hid and the peoples said oh well you'll never get him now because once he wins off he doesn't come back for a while and Momma Beff said OH NO I'm not weaving here wifout him and she sat down on the deck and said Tywone, i can't help you if you don't come to me…..and crazy as it sounds I listened and walked wight over and climbed in her lap AND THAT WAS IT I went home wif her
What would you like to say to other stray injured cats?
That there are a wot of bad hoomans but there are a WOT of great ones too and twist your instincts as to who you can twust and most importantwy NEVER give up and NEVER be ashamed of how you look. Evewy soul is important and has an important role here on earf.
Most cats are scared of going to the vets, how do you handle it?
I don't wike it at all and I meow a wot. But I am usualwy vewy good for the Vet and the assistants. My moms two to make it as comfortable as possible when I has to go to the white coats(thats what I calls them)
How are you doing now?
I am doing pwetty good. My moms and me are just fwustwated that the area around my eye won't compwetwy heal. It keeps getting infected and irritated and gooks up and gets kind of cwusty. So I has to get oinkment pwetty often and I weally don;t like it. I am not always a vewy good boy when my moms have to give me medicine or cwean my eye. None of my doctors can seem to agwee on what exactwy is going on wif my eye and the area awound it and so far none of the tweatments have been able to finish the healing pwocess.
What is your favorite thing to do?
OOOH I wuv to sit in my window seat and watch what is going on outside. As soon as my dawg sibwings bar I know somefing is out there and I win to my window to see what it is! I like to pway now too AND I wuv my tweats and ear wubs.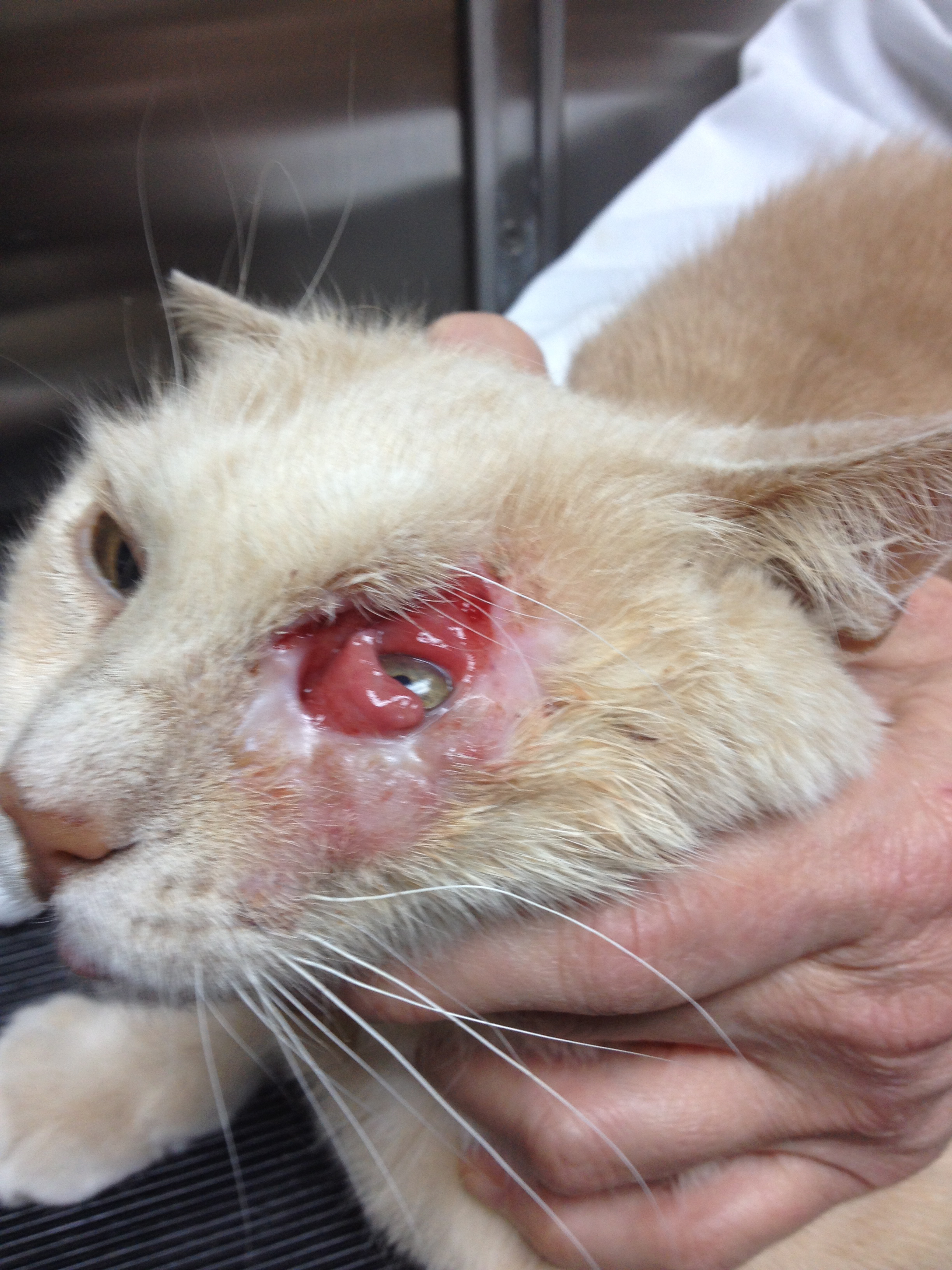 This question is for your momma: I read that he slept with Beth despite the smell and oozing, how did she do it?
Beth was a vet tech for 24 years and has been around a lot of terrible situations, although this one was really something never seen before and both Myself (Maria) and Beth just felt such a connection with Tyrone and wanted so badly to give him the respect and love he deserved before he transitioned from this earth. We were told he had a few weeks to a months t the most and whether the smell was horrific or not we spent as much time with him as we could to provide him comfort and let him know he was loved. I guess we almost became immune to the smell. When you would first enter the room it was so overpowering but as we would sit with him and see how happy he was that we were there the smell seemed insignificant.
Silly question, but what is a reiki treatment?
The definition of it is : a healing technique based on the principle that the therapist can channel energy into the patient by means of touch, to activate the natural healing processes of the patient's body and restore physical and emotional well-being.
If you go to our website and to the blog tab you will find an entire blog about the reiki treatments that ty was receiving . It was truly amazing to watch his behavior from beginning of a treatment(where he was very edgy and restless) the the end of a treatment (where he was entirely relaxed and in an almost ethereal state)
How has your life changed since taking Ty in?
Oh wow so much has changed. We started a non profit in honor of Tyrone (Tybean as we often call him) to run a TNR program and most importantly we are focusing on education. We believe that educating today's youth is the key to reducing animal abuse cases and encouraging them to understand that EVERY living thing deserves respect and compassion and has the right to live on this earth. Our focus is to begin raising fund so that come fall we can provide free programs in the area schools to try to connect with the next generation. We have also facilitated the adoption of over a dozen animals in the few months we have been in operation and have done TNR on many to help reduce the population of of feral cats. There there is the managing of thrones "fame" it honestly takes a lot of time and energy to manage tyrone's and All Souls pages but it is so heartwarming because we get so many messages from people stating that they may be having an absolutely horrible day and Tyrone will post something that gives them joy. We have had people with cancer, severe depression, loss of loved ones etc message us about how important Ty's page is to them. So it really isn;t just about an inspiring cat who does some silly things, it is about helping those who are struggling get through rough times and give them a little piece of happiness.
Are you a part of any pet support groups?
We are on many special needs cat sites and participate in educating about special needs. We are also on the support group of parents of pets with cancer even though he is believed to now be cancer free. We still engage and encourage those on the page.
What advice would you have for a pet parent who has a pet that needs extra love like Ty?
Have patience, ask questions, RESEARCH problems on your own do not simply rely on Doctors for the answers and most of all enjoy every minute that you have with them and don;t allow others opinions to influence you.
---
Author's Note: First and foremost I want to give my sincerest thanks to Miss Beth & Miss Maria for taking in Tyrone. The pictures I've included are nothing compared to dealing with it in person, so I want to say thank you so much for giving Ty another chance at life when so many would have given up. Thank you both  for letting me pester them with questions about Tyrone. Pictures were used with permission. You can find his facebook page –  Tenderness for Tyrone. Please also stop by All Souls Connected. 
This article is a part of the Extra Love Needed theme, please click on the badge below for more articles on pets that need extra love & care.