I'm back! Did you miss me? I missed you.. *hugs*
I asked fellow bloggers to give me ideas of what I can write about that would be different after returning from my week hiatus and this is what Miss Carol Bryant suggested the following: Five things that you wish were different in the pet industry, four things pet parents should do for a safer summer, three things to do with your dog on a rainy day, two pets who need adoption right now, one big "hey readers what do you want to know". Immediately I was thinking about them and then noticed, I don't have a dog.. so I changed dog to cat.. and I changed pet to animal…so here goes:
Five things that you wish were different in the pet industry animal industry
I would outlaw the following:
BSL
de-clawing
de-barking / devocalization
tail docking – My dear furry friend Miss Pixel Blue Eyes has her own campaign to end tail docking.
Then I would have a national database of animal offenders so no matter where they go, no shelter/rescue/breeder can adopt to them. I would like to have an international list.. but I figured I would start small. 🙂
Four things pet parents should do for a safer summer:
Make sure your pets have access to water at all times, especially if they are outside
Do not leave your pets in a car, it's way too hot out there
Make sure your pets have a shady spot they can take shelter in if they get to hot
Here are more tips from prevention.com & the college of veterinary medicine from north carolina.
Three things to do with your cat on a rainy day:
First laser light.. they will love you for it..even my newest addition Trixie loves the laser light.. I let everyone play with it and "catch it" after a little while.
Second would be giving them a "spa day", clipping nails, cleaning ears, ears and a good grooming session. Nothing relaxes my cats more than a good grooming session as it normally turns into cuddles and then someone falls asleep
Third take pictures, break out the real camera and start taking pictures. They don't have to be good, but just see what angle your cat looks best at. Turn on an overhead light, try different settings on your camera such as Macros, Black & White, play with the filters.. just have some fun with it.
Two pets who need adoption right now:
As always.. I'm helping Pet Guards Angels in Cuyahoga Falls, Ohio.. so here are 2.. err 3 cats that need adoption.
Meet Elizabeth
Elizabeth is quiet, very shy & unassuming. Although she is probably less than a year old, I suspect this petite girl has not felt safe in a long time & would appreciate a warm cozy home more than most. She has the most wonderful little purr ever & likes to snuggle on a warm lap. She would do best in a quiet home without other pets. Elizabeth will need to be able to move at her own pace settling into her new home.
Her profile page on Petfinder.com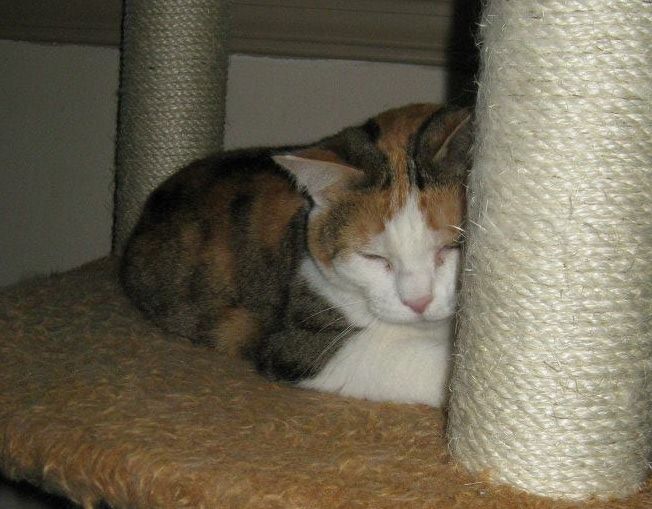 Meet Maggie
This delightful gal is one of the best lap warmers I've yet to meet. If she can't be cuddling in your lap she's content to lounge in front of a sunny window. Maggie asks for little but does insist she needs a home with no other pets. She'd do best in a quieter home without little kids as an adult home is all she's ever known.
Come meet our girl & you will fall in love.
Maggie's profile page on Petfinder.com
and just because I love Charlene (and she looks so much like Boo)..
Meet Charlene
This sweet & salty character is a ton of personality packed into a very small package! Our Charlie is silly, energetic, playful & loves to climb.
When this sensitive girl loves, she loves with her whole heart but because she is slow to adapt to change she needs a home with someone that has lived happily with a quirky kitty.
Charlie does not care for other pets & would be best in an adult home.
* Note: Charlene is NOT a good candidate for a declaw surgery.
Her profile page on Petfinder.com
So.. what would like to know? Is there something you would like to see on the blog that you haven't seen? Please let me know in the comments!